Product Description
**Please contact donald@pinkustyle.com with vehicle year make and model for your EXACT pricing**
**You will be responsible for import tax fee's**
--------------------------------------------------------------------------------------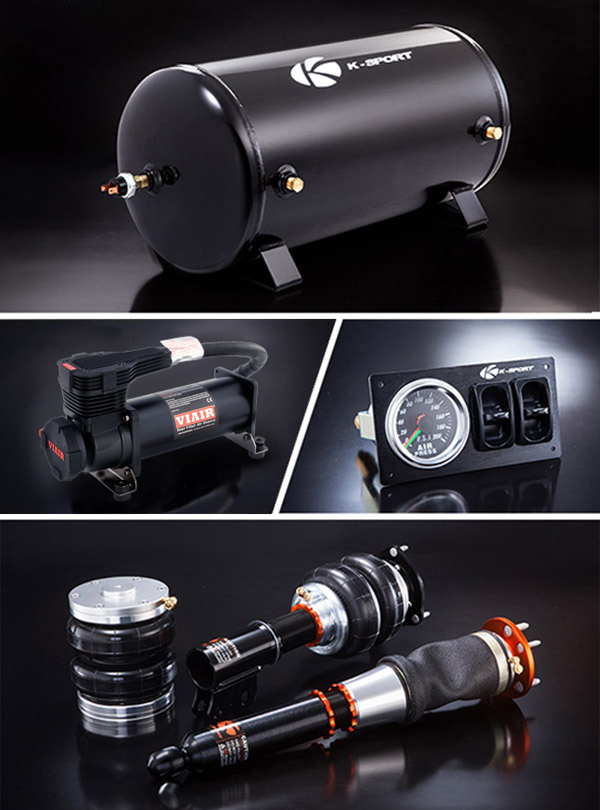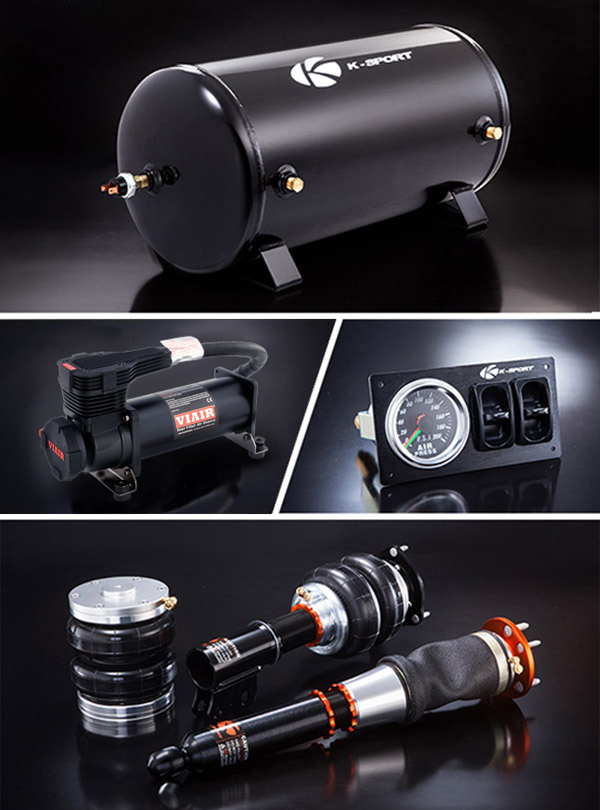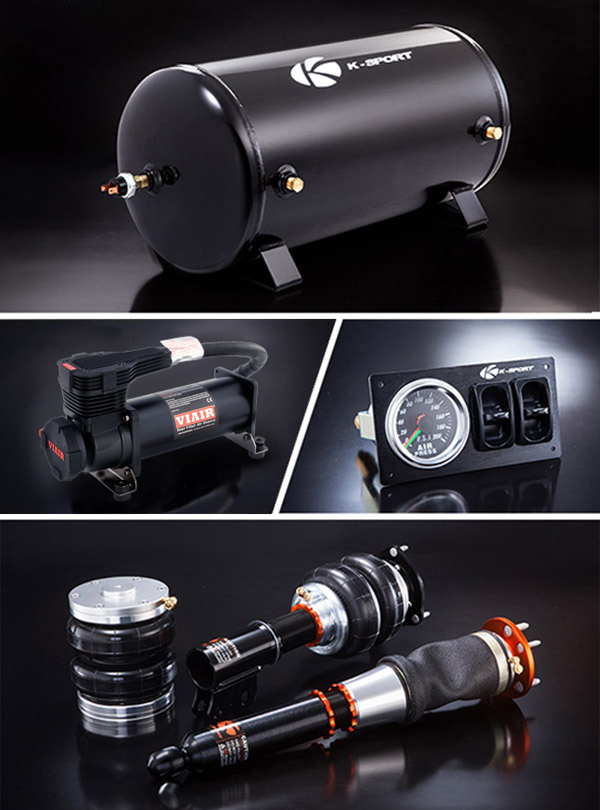 This is a complete kit with the most excellent damping setting to match up properties of pneumatic springs in order to increase the vehicle's stability, unlike other brands come with non adjustable shock absorbers which causes the vehicle to be bouncy and unstable during cornering. Modifying upper mount, cutting car body or welding the OEM shock to the vehicle is not required when our kit is fitted to the vehicle unlike other brands.





Not only does this system allow to change air pressure, but you can also adjust the maximum and minimum ride height freely to match up a body kit to get the desired ride height, which is one of our products features that other brands do not have.





This system is designed for easy bolt-on, it not required to work with the O.E.M shock absorbers unlike other brands.





Most system has 36 levels of adjustable damping, ride height adjustable, including upper mount in the front and rear.





The top mounts that we have on air suspension will be based on our standard setting.
Also, a tire pressure gauge can be connected to the air tank to fill your tires; the air pressure in the tank is sufficient for the tire pressure gauge.





A pneumatic tool can be connected to the air tank as well to clean the exterior of your vehicle, the air pressure in the air tank is sufficient for the pneumatic tool.





You can adjust the ride height with such ease while in the car. The ride height can be adjusted all the time to reach your desired height depending on the load of your vehicle.





A pressure gauge supplied with this kit shows the vehicle ride height. Adjusting the vehicle ride height is allowed when the vehicle is in motion.





The adjustment range of ride height is between 0 – 120/200mm. (based on different applications)





The speed of lowering and raising vehicle ride height is 4-7 seconds only.





After installation, the technician should examine carefully. Air springs will change its physical configuration due to different air pressure; therefore, check if all components of suspension have contact with the air springs when they are fully inflated. If so, it's necessary to remove the parts or the air springs might be damaged. Components rubbing against the air spring will void the warranty.





All applications listed on our website are for 2WD model unless we specify 4WD.
WARRANTY
Shock absorbers, compressor, air bag has one year limited warranty.
THIS SYSTEM INCLUDES


• HIGH SPEED COMPRESSOR × 1
• MOTOR VIBRATION-FREE MOUNTING HARDWARE × 4
• HIGH-TECH SILENCERS PLATE BASE × 1
• 150-175 PSI PRESSURE SWITCH × 1
• 200PSI DUAL NEEDLE GAUGE × 1
• MECHANICAL SWITCH AND GAUGE BRACKET × 1
• 35M 4X6MM NYLON LINE × 1
• 1M 7.5X10MM NYLON LINE × 1
• 100A FUSE × 1 , FUSE BOX × 1
• SHOCK ABSORBERS WITH 36 LEVELS OF ADJUSTABLE DAMPING × 4
• MANUAL INSTALLATION × 1
Product Videos
Custom Field
Product Reviews